Standard Production Times
Production time is listed on each product's page and available on all catalog quantities. Seasonal fluctuations and size of order might affect production times. Production time begins the day after receipt of the complete order or after final proof approval.
Note: Due to manufacturing schedules for diary products, 2021 orders cannot ship prior to July 1, 2020.
Options that will incur additional lead time:
3–4 color imprints: add 1 day
Individual Mail: add 1 day
Imprinted Envelopes: add 1 day
Inserted Packaging: add 1 day (optional packaging ordered bulk will not incur additional lead time)
Personalization on select products: add 1 day
Custom Images for pocket/utility products: add 3 days
Insert Sheets/Wrap Sheets on select planners: add 3 days
Imprinted desk pad corners: add 3 days
Border Color Changes on select products: add 10 days
Phantom Overprints on select products: add 10 days
Dateblock Overprints on select products: add 10 days
Drill Holes on Desk Pads: add 10 days
Production-ready Order
Orders are considered production ready when we have received the following information: artwork, ad copy layout, typestyle and size, item numbers and description, color of imprint and color of item, quantity, shipping method, ship address, ship date, approval of proof (if proof is requested), approval of credit or cash with order, and special instructions.
Early Pricing
To qualify for early pricing the order must be production ready by July 1, 2020. See individual product pricing to determine if early pricing is available.
Catalog Price Increases
Every effort was made to identify and project material costs from our suppliers for final catalog pricing. Applicable increases are included in our current pricing. However, due to the volatility of crude oil prices and the associated impact on raw material costs, we reserve the right to change catalog prices if necessary, at any time, without notice. If this is required, every attempt will be made to announce the changes ahead of time. We understand and regret the inconvenience this may cause you and your customers.
Invoices
Invoices will be sent after orders are produced, regardless of when shipped.
Samples
Samples are available on all products upon request. Please provide your shipping account information along with your sample request. Please specify calendar year of sample on purchase order. Due to production, some samples (example: diary products and Touchpoint products) may not utilize the 2021 calendar year on the samples.
Cancellations
No cancellations without approval. Cancellations must be submitted in writing. You will be charged $31.25(G), plus all costs incurred before cancellation request is received at the factory.
Return Policy
Merchandise found to be incorrect due to our error will be replaced at no charge or credited when the customer completes the following steps. Returned merchandise must have a return authorization number, which must be obtained from the Claims and Resolution department. Unauthorized returns will not be accepted and will be returned to sender. Any complain must be registered within 30 days of shipment.
Less than Minimum
There is a $50.00(G) charge for a less than minimum order. This applies to each ad copy below the standard catalog minimum. Absolute minimum is half of the first column quantity unless noted on the product page. Less than minimum is not available on all products.
Overruns & Underruns
4% is understood to be acceptable per trade custom.
Repeat Orders (Applies to ad copy only)
Provide last year's order number with a copy of last year's ad and note any changes. Ad copy is kept electronically at the factory for one year. Unless repeat orders reference last year's order number, they will be processed as a new order and the ad reset.
Type Style & Ad Layout
We will use our professional judgement on typestyle and ad composition unless a particular layout and/or typestyle are specified. If you request "as close as possible to type shown," we will match or select a similar typestyle. Requests for exact type may need to be treated as artwork.
Foil Imprint Information
Type Style & Size:
This information applies to foil stamped products only.
Minimum Size: 9 point
Standard typestyles: Times Ten Roman | Arial | Helvetica
Do not use bold or script fonts.
Logos:
Minimum type size: 9 point
Multiple logos can be used.
Logos can have up to 4 colors, but the colors cannot touch (1/32" allowance required).
Note: logo/type that is very bold, condensed, fine detailed, close registration, or screened is not suitable for this process.
Supplied artwork
Hard Copy: Physical artwork will be electronically reproduced. Send sharp, high-contrast, color-separated or black-and-white artwork that needs no touch up.This artwork will be discarded unless a return request is noted on the PO. Do not send the following types of material as Hard Copy Artwork: film, faxes, business cards, photocopies, wearables, magnets, printed materials such as yellow pages, stationary, magazine pages or Web-based artwork.
Emailed: Within 24 hours of sending the order, email artwork. Please include purchase order number. When sending multiple files such as fonts, logos and layout, we recommend that the files be compressed as .zip or .sitx. Artwork can also be transferred directly to us via an art transfer system. Both email and web site are limited to 10 MB attachment size. Please contact customer service for information.
FTP: For large files, an FTP site is available by request only. Please contact the factory for information.
Disks & Drives: We accept a variety of disk formats. If you need more information, please contact the factory.
File formats
Preferred Applications:
Adobe® InDesign®
Adobe® Illustrator®
Adobe® Photoshop®
Acceptable File Formats:
QuarkXpress®
Freehand® MX – saved as EPS
CorelDRAW® - exported as EPS with fonts converted to curves and embedded images included.
Press Quality PDF – PDF/X compliant PDFs are acceptable. PDFs must be created at the correct size. We cannot alter your PDF. Contact factory for more detailed instruction if needed.
Photos – saved as TIFF format, CMYK, scanned at 300 ppi at actual size. We prefer photos supplied in CMYK color. If you are working with CMYK images, please contact your sales rep for our press color profile to achieve the best quality color reproduction. We can also accept RGB image but, please note that they will be converted to our CMYK color profiles.
Line Art – should be created in a vector art program such as Illustrator® or CorelDRAW®. If this is not possible, submit bitmaps scanned at a minimum of 800 ppi.
Any variations outside the specified file formats will incur additional charges.
Ad copy Proofs
Emailed-proof or faxed proof: free of charge
Mailed paper proof: free of charge
Full-color mailed proof: free of charge
Virtual calendar and ad proof: $25.00(G) each
Standard Imprint colors
See individual product pages for the standard imprint color that is included in the base price of the product.
Optional Imprint colors
Applies to the various items in the Executive and Commercial sections. See individual product pages for more information and additional charges that will apply.
Note: Swatches below are process colors, not an exact color match.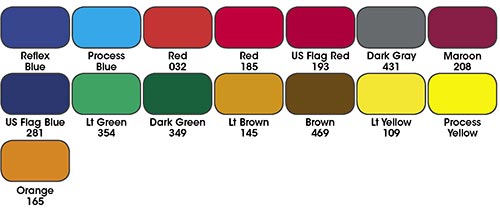 Optional foil colors
Applies to various items in the Pocket, Desk & More, Planner and Diaries section. Does not apply to hot-stamped Stick-Up Calendars. See individual product pages for more information and additional charges that will apply.
Multi-color ads (up to 4 colors) see individual product page. For four or more colors, contact factory.

Non-Standard/non-Optional Imprint Color Matching
Applies to the various items in the Executive and Commercial sections. See individual product pages for more information and additional charges that will apply. Exact color match is not available on 4-color process or hot-stamped products.
Due to the nature of the materials and the variance in manufactured products, we cannot guarantee exact matches within orders or on repeat orders.
This option will add 1 day to the standard production time.
Personalization is only available on select calendar products. All names must be supplied electronically and received at the factory no later than September 15th to guarantee preholiday delivery. Faxed copies are not acceptable. Orders will not be produced until complete list is received. To qualify for early pricing, we must receive lists by July 1.
Supplying names
Please submit your list of names using an Excel® spreadsheet, formatted like the example below.
| | |
| --- | --- |
| First Name | Last Name |
| John | Lincoln |
| Jill | Johnson |
We will not proofread list of names and will not be responsible for errors. Supply names exactly as you want them to appear on the calendars in the correct format. If you choose Small Caps or Brush Script, your list or file must be supplied in upper/lower case. If not specified, the standard typestyle will be used.
If the order quantity exceeds the personalized quantity, please specify what we are to do with the balance. Additional charges may apply.
We will not add, delete, or change names on lists already produced.
Standard Personalized Typestyle
Palatino Bold in all upper case, except on planner products.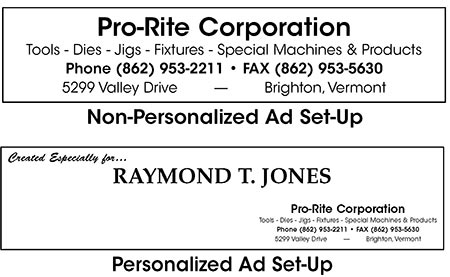 If you would like to use a specific font, please contact the factory to determine if the style you are ordering offers this option.
Planner Personalized Typestyle
14-point or 18-point typestyle is available. Please specify size. Sizes cannot be mixed. If size is not specified, we will use our best judgment.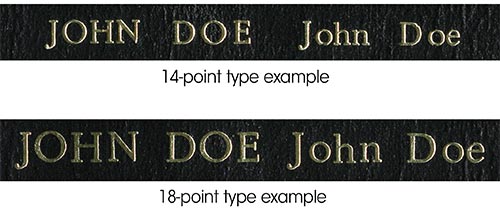 Planner Personalized copy location
Standard Copy Location: lower right corner of the front cover. Copy may be one or two lines. Two-line requests will be flush left or flush right, please specify. Restrictions on the number of characters may apply. On the 8585 & 8654, name will appear on lower front cover centered or right justified. Call factory for more information.
Other Copy Location: 8585, 8600, & 8654 name will appear center of lower, front cover or right justified. Not Available On: 8002, 8200, 8650, 8371, and 8960
Personalization Pricing
Price Set 1:
$0.30(G) per name 
Price Set 2:
List received before July 1: $2.50(G) per line 
List received before September 1: $3.50(G) per line 
List received after September 1: $4.50(G) per line 
Price Set 3:
One line: $3.00(G) 
Two lines: $6.00(G)
Individual Mailing of Personalized calendars
Please supply personalized names and addresses in the same document. Excel® or delimited text files are preferred.
This option will add 1 day to the standard production time. Due to ongoing US Postal regulations with the "Move Update Program," we cannot process individual mail orders more than 45 days prior to your requested ship date.
Special Note: Styles 6251, 6252, 6254, 6256, and 6405 utilize 27.5" tubes. These cannot be mailed using a bulk rate and require first-class mailing. Call factory for current mailing costs.
Super Saver Service
We will generate mailing labels from your customer-supplied Excel® spreadsheet, attach labels to packages, and mail.  $0.25(G) each for non-personalized calendars $0.10(G) each for personalized calendars plus postage costs at current rates.
Regular Mail Service
If an Excel® spreadsheet is not available, we will generate an electronic mailing list from the customer supplied hard copy (printed hard copy list or mailing labels). $0.35(G) each for non-personalized calendars. $0.10(G) each for personalized calendars plus postage costs at current rates.
Bulk Permit
No charge. All customer-supplied addresses are processed through current USPS address-matching software for the most efficient mailing of your product. We follow US Postal regulations, and shipments must meet all postal requirements. Required minimum: 200 pieces or 50 lbs. Call factory for details.
Imprinting Envelopes
This option will add 1 day to the standard production time. $16.00(G) set-up (5 lines max) plus $0.06(G) per color per piece each running; 2-color max. For other colors, see Optional Imprint Colors.
Correct format for Mailing label Excel® Spreadsheets:
| | | | | | | | |
| --- | --- | --- | --- | --- | --- | --- | --- |
| First Name | Last Name | Company | Address 1 | Address 2 | City | State | Zip |
| John | Lincoln | John's Grocery | 112 4th Street | Apt. 7 | Anytown | MN | 56085 |
Unless an order specifically lists one of the storage dates offered, we reserve the right to ship as early as our production permits. 
Drop Shipments
Shipments to multiple locations and/or attention lines per style/item all occurring at the same time will not incur a drop ship fee for the first 20 locations. Each location after 20 will incur $8.00(Z) - domestic locations (including Canada) and $16.00(Z) – international locations. 
Carrier Delays
We cannot be responsible for carrier delays.
Storage Release Dates
PLEASE SPECIFY ONE OF THESE STORAGE RELEASE/SHIPPING DATES:
May 1
September 1
November 1
June 1
September 15
November 15
July 1
October 1
December 1
August 1
October 15
 
Orders received after November 15 will be shipped off the production line.
Note: If it is necessary to remove an item from storage prior to ship date for any change, a $50.00(Z) charge per style/per drop will apply.
Third Party and Freight Collect
All third-party shipments ship EXW Factory. Add $10(z) per order when electing not to ship on Koozie Group's shipper account. Insurance must be handled by the consignee. If any selected third-party freight collect fee gets charged back to Koozie Group, these charges will be billed separately to your third-party account. Koozie Group shall also invoice you for a third-party chargeback fee in the amount of $10.00.
If Koozie Group is unable to re-bill these amounts to your third-party account, Koozie Group will invoice you for the third-party freight collect fee at the applicable published rates, along with a $10.00 third-party chargeback fee and any and all fees and costs associated therewith.
International Shipping
For shipments outside the United States (including Puerto Rico), declared values will be catalog pricing unless otherwise requested. For international shipments (excluding Canada), the customer is responsible for all taxes, duties, brokerage fees, and miscellaneous charges related to the shipment.
For orders destined to Canada, prepaid shipments will be shipped DAP (Delivered At Place). If an international or Canadian order is shipped via a third party, these fees will be charged to the third party account.
For shipments with a declared value greater than $2,500 destined to a country other than Canada, a shipper's export declaration (or Electronic Export Information) will need to be submitted to customs. All shipments that qualify for this requirement will have an additional $20 handling fee added to the shipping cost for both third-party and prepaid shipments.
The factory is not responsible for delays in customs, ocean freight shipment delays, or air freight shipment delays beyond our immediate control.
Additional Freight Information
Shipments are sent prepaid and billed to the distributor unless your order requests otherwise. Freight charges are added to customer invoice at published rates.
Charges from carriers for invalid addresses, change in transit, return due to refusal, or invalid account number will be billed as applicable.
Orders requesting customer pick up that are not picked up within 72 hours of first call will incur storage charges.
Title to and risk of loss of the goods will be transferred to the customer at the time of pickup by the carrier, at which time our responsibility will cease. Although we can assist you, freight claims for third-party shipments should be filed with the carrier.
Sizes:
All sizes given in this catalog are approximations. For the convenience of our customers, actual dimensions have been rounded. All prices are in U.S. funds,
Re-Run Policy:
We will re-run your order at no charge if your client has a change of company name or address that affects the advertising copy and if order quantity meets catalog quantity. The new copy must be received in our office before July 1, 2020. Due to constant changes in area codes, we cannot extend this policy to phone number and email address changes.
Right to Refuse:
We may refuse to produce an order when all artwork has been received and it is determined that the subject matter contained therein does not meet acceptable standards.
Intellectual Property:
KOOZIE GROUP, GOOD VALUE™, BIC GRAPHIC, the KOOZIE GROUP logo, KOOZIEGROUP.COM, BICGRAPHIC.COM, TRIUMPH®, and all related trademarks, logos and trade dress are trademarks or registered trademarks of Koozie Group and/or its affiliates or licensors in the United States and other countries and may not be used without written permission. All other trademarks are the property of their respective owners.
The designs embodied in the products depicted in this catalog are the property of Koozie Group, and/or its affiliates and licensors, and are protected under federal and international patent, trademark and copyright laws. Any use of these designs without the express written consent of Koozie Group is prohibited. Purchase of products through this catalog does not constitute a license of any intellectual property between Koozie Group and Customer. Please note that the pictures on our products were purchased for promotional product use only. We regret that these products may not be sold as retail, used for reproduction, dismantled for selling as prints, nor sold outside North America.
The use of third-party logos, trademarks and trade names on products in this catalog are for illustrative purposes to represent Koozie Group's expertise in factory printing and design capabilities. Such use does not imply an endorsement or association between Koozie Group and any third party, nor does it indicate that the product has been used or purchased by any third party. Products featuring these designs are not for sale to anyone other than authorized representatives of the owners of the logos, trademarks and trade names. Koozie Group assumes no responsibility for determining the proper ownership or proper use of trademarks, logos and trade names. All responsibility and liabilities of this nature rest with the Customer. Customers placing orders with Koozie Group represent and warrant to Koozie Group that they have the authority to order, purchase and distribute the product with the trademarks, trade names and logos specified on the order, and that the use or display of the artwork will not violate any laws or client restrictions. Customers also agree to indemnify, defend and hold harmless Koozie Group, its affiliates and licensors, from and against any and all claims, liabilities and expenses, including attorneys' fees, arising out of or related to any actual or alleged infringement or misappropriation of any copyright, trademark or other proprietary rights of such merchandise. This provision will remain in effect after delivery of Customer's merchandise.
Koozie Group reserves the right to photograph or show as samples the items produced by Koozie Group without liability as to trademark, copyright or other proprietary rights, and Customers placing orders with Koozie Group consent to such use.
As to Customer's placing custom calendar orders with Koozie Group, Koozie Group is and shall be the sole owner of all copyrights and other intellectual property rights now existing or hereafter coming into existence in and to any custom calendars (subject to Customer's copyright, if any, in its own underlying artwork). Customer shall have a limited, royalty-free non-sublicensable license to view any draft/proposal versions of a custom calendar provided by Koozie Group solely for the purpose of approving the product. Upon Koozie Group's receipt of payment in full, Customer shall also have a perpetual, royalty-free license to display and redistribute the final tangible version of the product delivered by Koozie Group. However, unless otherwise agreed by Koozie Group in writing, no such product, whether in final form or draft/proposal form, may be reproduced, modified, adapted, published, printed or used for a derivative work by Customer or any other party. All other rights are expressly reserved by Koozie Group.
Without limiting the generality of the foregoing, CUSTOMER ACKNOWLEDGES THAT COPYING OR PRINTING, OR CAUSING A THIRD PARTY TO COPY OR PRINT, ANY CUSTOM CALENDAR OR CREATING A CALENDAR WITH A SUBSTANTIALLY SIMILAR SELECTION, COORDINATION OR ARRANGEMENT, WITHOUT KOOZIE GROUPS PRIOR WRITTEN CONSENT, MAY CONSTITUTE COPYRIGHT INFRINGEMENT.
Representations and Warranties: Koozie Group will honor its Return Policy for any product that it determines does not meet its standards for quality and workmanship. KOOZIE GROUP DISCLAIMS ALL EXPRESS AND IMPLIED REPRESENTATIONS AND WARRANTIES WITH RESPECT TO ITS PRODUCTS INCLUDING, BUT NOT LIMITED TO, THE IMPLIED WARRANTIES OF MERCHANTABILITY AND FITNESS FOR A PARTICULAR PURPOSE.

Look for the Pixaction Preview icon on the front cover of most Triumph® appointment calendars. Appointment calendars with the icon incorporate augmented reality on the front cover. Scan the code on the cover with the Pixaction 2.0 App to preview all 12 monthly images. 
Combined Quantity Pricing - Triumph Products
You can combine any of the calendars listed below within their own groups. The ad copy must remain the same on the total order, and you must order a minimum of 50 of each style. Check for combined quantity groups beneath product price bars on each page.
Combined Group Pricing
You can also combine pricing between groups 1, 2 and 3. The ad copy must remain the same on the total order, and you must order a minimum of 50 of each style.You will receive pricing for each product that reflects the total order quantity. For example, if your order is for 1,000 calendars consisting of 500 of style 1052 and 500 of style 1103, you will receive the 1,000 quantity price under each style's respective group.
group 1: Triumph® Appointments 
1052, 1053, 1054, 1251, 1301, 1350, 1400, 1452, 1552, 1600, 1601, 1602, 1650, 1652, 1653, 1700, 1701, 1703, 1704, 1705, 1706, 1707, 1708, 1709, 1710, 1711, 1712, 1715, 1719, 1747, 1748, 1749, 1755, 1771, 1772, 1781, 1792, 1801, 1803, 1804, 1805, 1806, 1850, 1851, 1852, 1854, 1855, 1857, 1858, 1859, 1860, 1861, 1863, 1902, 1951
group 2: Triumph® Appointments 
1103, 1104, 1106, 1120, 1305, 1403, 1505, 1550, 1800, 1809, 1811, 1862, 1900
group 3: Triumph® Appointments 
1101, 1117
group 7: Pocket Desk & More 
4275, 4276, 4277
group 8: Pocket Desk & More 
4000, 4002
group 9: Pocket Desk & More 
4101, 4102
group 10: Pocket Desk & More 
4152, 4153, 4155
group 11: Pocket Desk & More 
4150, 4156, 4160
group 13: Pocket Desk & More 
4242, 4251, 4259
group 14: Pocket Desk & More 
4250, 4252, 4253
group 18: Pocket Desk & More 
5350, 5351
group 19: Pocket Desk & More 
6703, 6704, 6705
group 20: Vinyl Desk Pad 
6551, 6552
Combined Quantity Pricing - Good Value Appointment Style Products
Applies to spiral, stapled & window style (mini appointment calendars are not included).You can combine any of the standard appointment calendars. The imprint color, binding method (spiral, stapled, or window) and ad copy must remain the same on the total order, and you must order a minimum of 75 per theme. 
Phantom Overprints
This option will add 10 days to the standard production time. Available on the styles listed in the chart below. Phantom overprints (logo, product, etc.) can be reproduced on each calendar sheet. We will enlarge or reduce artwork and screen it back to 30% for printing. Phantom must be exact same copy and location on each sheet. See chart below for pricing, minimums, and available styles. Pricing shown includes one color only (same color as ad copy). Contact factory for multi-color quotes.
PHANTOM OVERPRINTING - ALL PRICES (G)
Calendar Style
Min Qty
Price
3300, 3301
100
$110.00 Set-up*
2100, 2101, 2102, 2103, 2104, 2503, 2504, 2507, 2508, 3106, 3107, 3108, 3205, 3206
50
$110.00 Set-up*
6201, 6251
100
$110.00Set-up*
6202, 6203, 6206
100
$110.00 Set-up*
6100, 6102
50
$110.00 Set-up*
6101, 6103, 6104, 6105, 6106, 6107, 6108, 6500, 6501, 6502, 6503, 6504, 6505, 6506
50
$110.00 Set-up*
*If exact same phantom as last year, price is $69(G) plus any running charge that may apply.
Dateblock Overprints:
This option will add 10 days to the standard production time.
Schedules, reminders, slogans, convention dates, etc., can be overprinted on any dateblock or memo area. See chart below for pricing, minimums, and available styles.
DATEBLOCK OVERPRINTING - ALL PRICES (G)
Calendar Styles
Minimum Quantity
Price
6201, 6251 
1000
$235.00 Set-up | $2.40 per dateblock
6100, 6102 
1000
$524.00 Set-up plus $0.15 each running charge | $2.40 per dateblock
Border Color Change
This option will add 10 days to the standard production time.
Available on the styles listed in the chart below. Match a logo, product color, etc. Border color needs to be same color as ad or multi-color charges will apply.
BORDER COLOR CHANGE - ALL PRICES (G)
Calendar Style
Minimum Quantity
Price
Color location
6100
500
$610.00 Set-Up
Month bar & span-a-year bar, 1 or 2 colors
6201, 6202, 6203
500-999
$477.00 Set-Up 
Month titles, Sundays, holidays, and borders
6201, 6202, 6203
1000
$270.00 Set-Up
Month titles, Sundays, holidays, and borders
6600
500-999
$830.00 Set-Up
2 colors of your choice for numbers and month bars
6600
1000
$570.00 Set-Up
2 colors of your choice for numbers and month bars
6601
500-999
$667.50 Set-Up
2 colors of your choice for numbers and month bars
6601
1000
$407.50 Set-Up
2 colors of your choice for numbers and month bars
December Top Sheet
Available on select tinned 6 & 12-sheet Executive styles as noted on the product page ($0.44(G) each).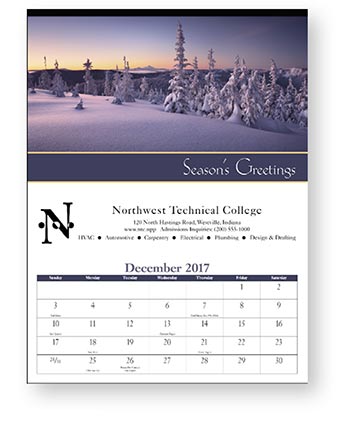 Custom Picture
This option will add 3 days to the standard production time.
Available on select styles: 4000, 4002, 4101, 4102, 4151, 4205, 5350, 5351, and 5450 
100 minimum: $75.00(G) 1- to 4-color.
Price shown is for picture only and needs to be added to price of calendars ordered. All colors except black created using 4-color process.
For quantities larger than 10,000, contact custom program department. 
Picture will be sized to correspond with the calendar style selected. 
Picture size: 6-1/2" x 4" for styles 4101, 4102, 4151, 5350, 5351
Picture size: 8" x 4-3/4" for styles 4000, 4002, 4205, 5450  
Outside Back Cover Printing Good Value™ Products
Applies to spiral, stapled & window styles (minis calendars are not included).
$25(G) set-up charge plus $0.11(G) running charge.
Printable area: Spiral: 10.25"w x 9.25"h; 
Stapled & Window: 10"w x 7.5"h
For a given item, various item colors may be ordered and detailed on PO, at least half of the MOQ per color is required. Total order must be for at least catalog minimum order quantity, artwork and imprint color must remain the same for entire order. Not available on in-house manufactured writing instruments, BIC Select™ Writing Instruments, and items with digital 4-color process as the decoration method. Please contact your sales representative or customer service if you have a question.
back to top