Home / Koozie Group Difference / 24 Hour Service
24-Hour Service
24-Hour Service on hundreds of products!
Look for the 24-Hour icon next to specific items and ordering information.
Program Parameters
All catalog quantities apply
Less than minimums are not available
Case lot quantities only
Subject to inventory availability
Standard package only
Up to 3 drop shipment locations
Catalog minimum quantities apply per location
In the event that the item you ordered is out of stock, we will offer you an alternative item of equal or greater value (does not apply to calendars).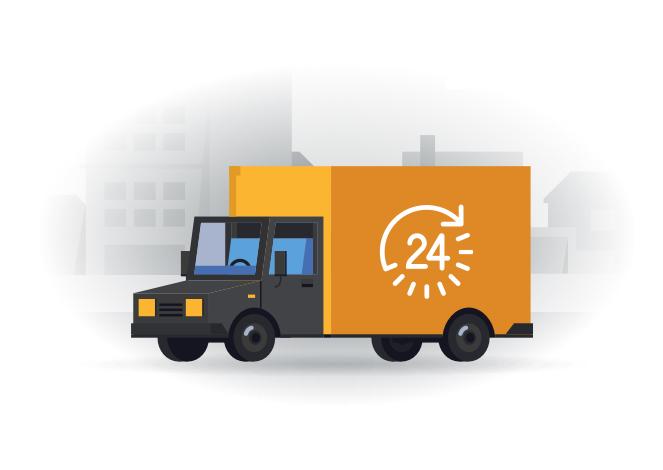 BIC® and BIC Select™ Writing Instruments
All cap and barrel imprint combinations offered in the catalog.
BIC® Sticky Note™
4-color process only
BIC® Magnets
4-color process and #MGEBC only
BIC® Mouse Pads
4-color process only
White Chipboard Cover BIC® Notebooks
4-color process only
Standard imprint method, 1-color, 1-location imprint, is available for numerous products found in these categories:
Writing Instruments
Bags
Meeting
Travel
Outdoor & Leisure
Drinkware
Housewares
BIC® Plastic Cover Notebooks
Office
Technology
Health, Wellness & Safety
Flashlights, Tools & Auto
Golf
Awards & Recognition
Calendars (1-color black only)
Items ordered must be a product designated with the 24-Hour logo in the current catalog.

Order and artwork must be e-mailed to 24hour@kooziegroup.com.

Orders may be faxed to 1-800-626-9015.

For 3-Day Calendar orders, please include "Calendars Fast" on the purchase order (P.O.) and in the subject line of the e-mail, as well as company name and P.O. number.

On all orders, please repeat distributor name, contact name, contact phone number and P.O. number in the body of the e-mail. Orders that are faxed should clearly state "24-Hour Service" or "Calendars Fast" on the purchase order (P.O.).

Complete order and electronic or production-ready artwork must be received at the Koozie Group factory by 8:00 p.m. EST, Monday - Friday. Production will start the following working day.

24-Hour Service begins at 8:00 p.m. EST and your order will be produced and ready for carrier pick-up by midnight the next working day. Pick-up times vary based on the carrier and shipping method selected. Carrier pick-up is not guaranteed.
Weekends and holidays are not considered working days.

A phone number or e-mail address is required, including after‑hours contact information so that we can reach you with any questions regarding your order.

Artwork must be production-ready. The file must be received at the same time as the order in Adobe Illustrator® format. For specific art requirements, please reference the artwork details listed in the General Information section.

Customer account must be in good standing and not on credit hold.

If order clarification is required, 24-Hour Service will not begin until answers received.

If a proof is requested, 24-Hour Service will not begin until the proof is approved.

Artwork Changes—Please allow additional time for artwork adjustments.

Koozie Group cannot guarantee 24-Hour Service in the event of severe weather, natural disasters, acts of God or any other events outside of Koozie Group's reasonable control.
Program Exclusions
Excluded Products
Adhesive and Non-Adhesive Cubes with Sheet Imprints
Any calendar orders requesting a storage date
Mylar Flag & Sticky Note™ Booklets
Magnets with Notepads Attached
Paper Mouse Pads with Rounded Corners
Custom Shape Products
Combo Packs
Non-Standard Packaging/Special Packaging
Cartridge Swapping
Custom Colors
All BIC® WideBody® Message Pens
BIC® Brite Liner® Grip® 3-Pack
BIC® Brite Liner® Grip® 5-Pack
Random Color Assortments
Excluded Decoration Options
Halftones or Gradients on Screen-Printed Items
Digital Color Graphics
Deboss/Foil Stamping/Colorfill
Clip Imprint and Emblems
back to top