HotLine Products
About the Brand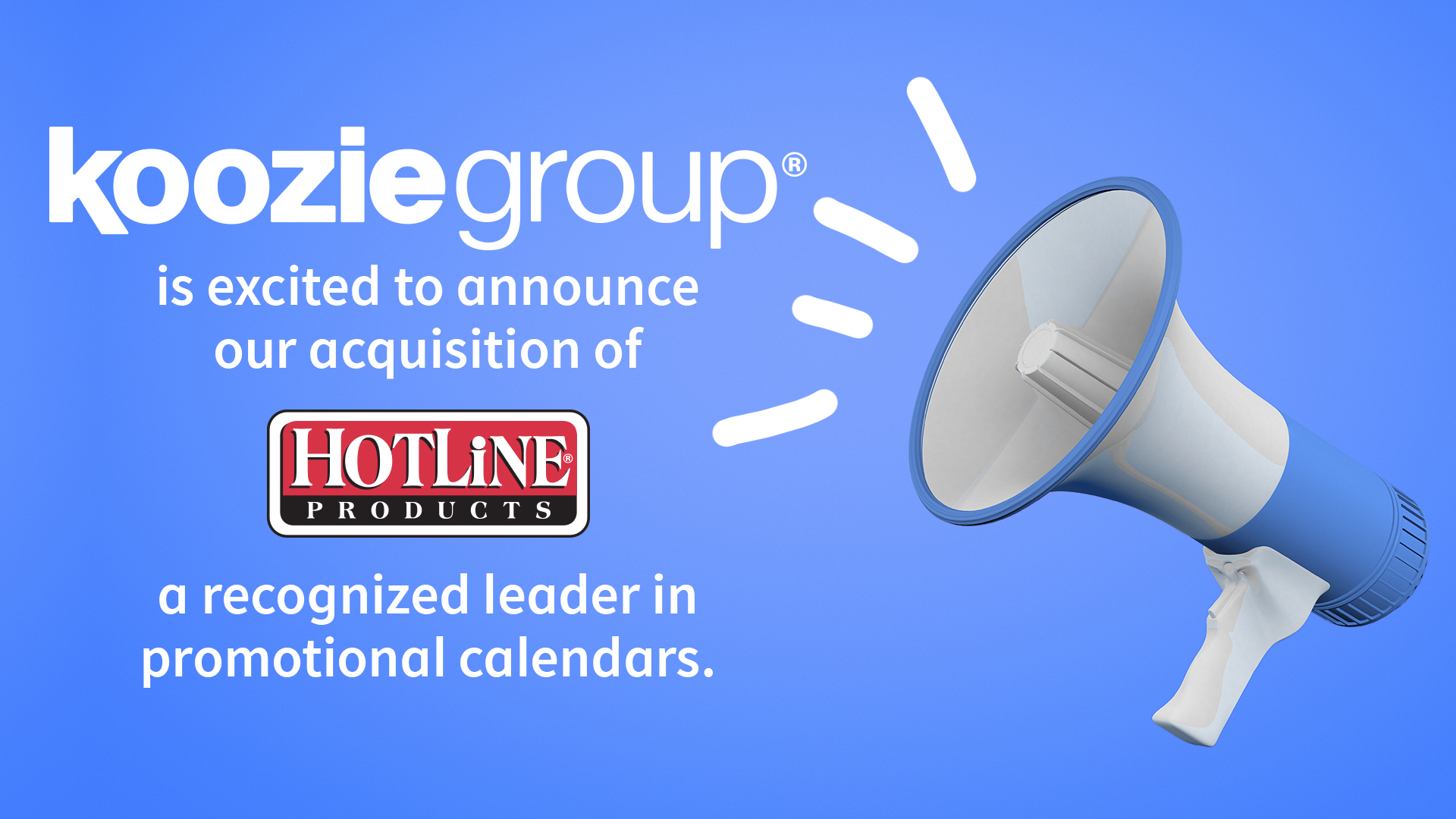 HotLine Products Joins the Koozie Group Family
"Koozie Group and HotLine are two of the top names in promotional calendars who also have similar standards around quality and sustainability. That alignment, along with our Sleepy Eye team's expertise in calendar printing and production, made this acquisition a great opportunity for us to take another step toward our future vision," said David Klatt, CEO with Koozie Group.
---
March 8, 2021
Since HotLine joined the Koozie Group family, our team has been hard at work to make sure this transition is as seamless as possible for you, our customers.
Product and ordering information is moving to Koozie Group's systems over the next few months while production of HotLine calendars moves to our Sleepy Eye, MN facility. We are keeping the HotLine email addresses, website and phone numbers active and staffed during the transition. Until this time, please continue to place orders directly with HotLine Products.
Our team is also evaluating all policies and processes to make sure we are providing the best experience for our calendar customers. We intend to keep changes to a minimum, but may transition to Koozie Group's policies for simplification or when it benefits customers, such as:
Moving to Koozie Group's pricing model with two tiers of pricing which means that the deepest early order price discounts have been extended to a new cutoff date of 8/1 for all calendar items!We are in the process of updating our websites and industry portals with this information.

Offering more release dates by adhering to Koozie Group's storage policy, with orders after November 15th shipping directly off the production line.

Hotline items will now be available at exact quantities - no more over or underruns.

All Koozie Group and now HotLine products will use 100% of source stock paper for our calendars from SFI and FSC certified mills.
Coming Soon! Sample kits, a HotLine calendars catalog and more details about updating your systems with Koozie Group's information to make sure you're order-ready once the transition is complete. Be on the lookout for future emails from Koozie Group with everything you'll need to know.
In the meantime, we're here for you! Please don't hesitate to reach out with any questions. You can also visit the Koozie Group's HotLine Products section on the website to keep track of all of these important updates.
---
February 23, 2021
We are pleased to announce our recent acquisition of top calendar supplier HotLine Products, expanding our strategic plan for sustainable and scalable growth!
Like Koozie Group within our Triumph® and Good Value™ calendar lines, HotLine is well-known in the industry for their wide selection of calendars including appointment, desk, executive, and commercial styles, planners/journals and custom capabilities as well as offerings featuring Norman Rockwell, Saturday Evening Post and David Maass, among others. Their focus on safety and responsible printing processes, using recycled materials and paper from sustainable sources aligns with Koozie Group's enhanced commitment to sustainability and social responsibility.
We are committed to keeping the HotLine product assortment as it exists today for the 2022 calendar season. These items will remain available under the Koozie Group portfolio with the production of these calendars being produced out of our Sleepy Eye, MN facility and serviced by our sales and service teams who have a 20-year consecutive record of winning the ASI Distributor Choice Awards in the calendar category.
We are currently in the slower part of calendar season, so over the next couple of months, our team is focused on coordinating the transfer of HotLine product and ordering information into our systems and support structures, including the production of the HotLine items into the Koozie Group Sleepy Eye, MN facility. For now, please continue to work with HotLine business-as-usual using the same website, phone numbers and email addresses. Koozie Group will be sending communications over the next few weeks with details on what to update in your systems and a timeline for those changes.
Our team is excited to add HotLine's assortment of high-quality, reputable products to our existing calendar line and look forward to helping build lasting brand legacies for you and your clients. Please note that your current Koozie Group Sales Account Manager will be the same contact for the HotLine calendar assortment should you have any questions.
Respectfully,
David A. Klatt, Jr., Koozie Group CEO
keyboard_arrow_up
back to top